Jeremiah – The Man Who Stood Alone Volume 2
$15.00
In 1973, the U.S. made the decision to withdraw all American ground troops from Vietnam, leaving South Vietnam to fend for itself.  In just over two years, the capital city of Saigon fell to the Communists.  U.S. helicopters were used to evacuate thousands of Americans who were still in the city.  It became the largest helicopter evacuation in history.  As the Communist North Vietnamese poured into Saigon, South Vietnamese Major Buang Ly knew that he and his family would be killed if they were captured, and so he decided to take matters into his own hands.
Major Ly was a South Vietnamese pilot who crammed his wife and five children into a 2-seater Cessna and took off while being shot at.  He began heading out to the open ocean while enemy soldiers were firing at his plane.  He finally flew outside of enemy ground fire and was over the open ocean with no idea what they were going to do.  He then saw a flurry of helicopters flying in the same direction and so he followed them, assuming that help would be in that direction.  It was then that he spotted a distant ship.
Hoping that it was American, he flew toward the ship which was an aircraft carrier, the USS Midway.  As he approached the ship, he decided to try and land his tiny aircraft on the flight deck, as they would probably not survive trying to ditch the plane at sea. He flew over the carrier and saw that dozens of helicopters were on its deck, bringing evacuees from Saigon, and he also saw that there was no room for him to land.  In reality, there were more than 40 helicopters that were jammed together leaving no room at all.  At one point, there were more than 20 helicopters circling the carrier waiting to land.
He wrote a note on a piece of paper and dropped it out of the window as he flew overhead, but it was blown away from the carrier.  He then wrote a second note asking for permission to land his plane.  He dropped it as he flew over and it too was blown into the ocean.  A third note did the same.  Maj. Ly then wrote a 4th note and stuck it inside his pistol belt which would hopefully weigh it down.  He dropped it on the flight deck and the note was quickly read and taken to the captain.  The note said:  "Can you mouve [sic] these Helicopter to the other side, I can land on your runway, I can fly 1 hour more, we have enough time to mouve. Please rescue me. Major Buang wife and 5 child."
The captain of the ship asked the admiral in command who was also on the carrier what he recommended.  The admiral told him to have the plane ditch in the ocean and they would have swimmers in the water to rescue them.  Capt. Chambers, however, knew that when the plane hit the water, it would flip upside down with only the pilot being able to survive.  Going against the orders of the admiral, Capt. Chambers gave the order to start pushing helicopters overboard.  When they did so, five more helicopters quickly landed to drop off their load of passengers.  As soon as they were emptied, the captain gave the order to shove those off the side as well.
The deck was now clear, the landing cables were removed, and the Cessna made a perfect landing, immediately surrounded by hundreds of cheering sailors.  At the same time, Capt. Chambers was watching as well but with mixed emotions.  The admiral had been pressuring him not to allow the plane to land, and the captain knew that he would likely be court-martialed and relieved of his command.  He had only been the captain for five weeks.  It doesn't happen very often, but this story had a happy ending.  The major and his family were allowed to become citizens of the U.S. – Captain Chambers was promoted to admiral – and the tiny Cessna now sits in the Navy's Aviation museum in Pensacola, FL.
How did this happy ending come about?  All it took was one man who loved his family who wrote a brief letter asking for help.  That one plea then stirred the heart of a man who was willing to risk everything to help.  As we come to Jeremiah 29, we find a letter that was written not by a desperate husband trying to save his family, but a letter that was written by God to His people for the purpose of comforting them with His words of love, hope and compassion.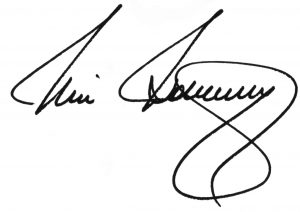 From the sermon titled "The Letter that Changed Lives."
Description
Sermon series from BCA Publications are preached by our pastor, Dr. Mike Holloway and co-pastor, Dr. Jim Willoughby.  Each sermon is carefully studied and prepared from the King James Bible, so you can be confident that they are doctrinally sound.  Our material has been used in an independent, fundamental, soul winning, separated, Baptist church since the founding of our college in 1993.
Each sermon series comes in a protective 2-ring album, one sermon per CD stored in protective sleeves.
Orders typically ship within 1-2 business days.
If you have any questions or concerns, please feel free to contact us via the chat widget at the bottom left-hand corner of your screen, email at [email protected], or call 765.452.3429.
Additional information
| | |
| --- | --- |
| Weight | 2 lbs |
| Dimensions | 7 × 6 × 2 in |